Once they had been qualified as fitting for their commercialization, lacons shall show the following features: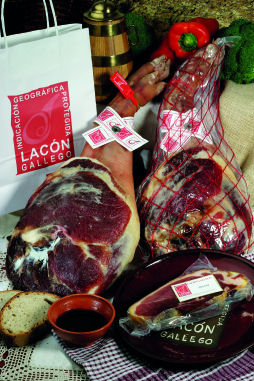 Physical
Anatomical layout: Bones of the humerus, ulna, radius, carpus, metacarpus and phalanges (therefore without scapula), as well as the muscular masses inserted in those, and covering fat.
External shape: Rounded, with clearly outlined edges up to the appearance of the muscle. The lacon shall be whole, keeping both skin and hand, but without the hooves.
Weight: Shall range between 3 kg and 5, 5 kg.
Organoleptic
Coloration: Pink to purple-red
Appearance of the cut: Clean, bright, with fat partially seeped into the muscular mass.
External appearance: Clean and firm.
Texture: Firm to the touch.
Fat: Of variable stickiness, pale colour, aromatic and pleasant to taste
Smell: Slight and pleasant, exempt from rancidity and strange odours.
Taste: Delicate and scarcely salty.
Apart from the aforesaid, the "Galician Lacon" with Geographic Indication -regardless of its class- shall be released into the market with the following distinctive elements:
A plastic seal, not reusable, which shall have stamped a 7-digit correlative number, the name of this Regulating Board and its logo. This sealing will be performed at the slaughterhouse by our observers, once the identity and origin of the animals had been verified and the corresponding shoulder had been considered as fitting for elaboration.
A counter-label with a 6-digit correlative number, with the Board's denomination and logo, which shall be placed at the factories once the curing process of the product, had been finished and this had been rated as fitting for its commercialization by the Board's observer.
A Commercial Label authorized and passed by the Board.